Big Ajax announcement: 10 new products
In the coming months, Ajax will undergo a number of improvements. New automation scripts will be added. Ajax will provide indoor and outdoor security. Large areas and multi-storey buildings will no longer be a problem. It will be possible, in addition to reading notifications about alarms, to see what has happened. Let's not forget market professionals as well.
Ajax Systems held a presentation at the annual workshop "The Technical Evolution" of Secur, the largest distributor of security systems in Ukraine, on 12 October. We showed 7 new devices, announced the API for corporate customers, as well as major updates of Hub OS Malevich and Ajax PRO Desktop.
Ajax Hub Plus
Hub Plus is a central unit with breakthrough standard communication equipment and increased amount of memory.
The device has inherited the design of the original Hub and the internal power unit. Hub Plus can be powered directly from the electric mains, without a power outlet. This will probably be the only cable connected to Ajax.
Hub Plus is equipped with 2.4 GHz Wi-Fi, Ethernet port and two SIM-card slots that support 2G and 3G networks. Moreover, when using only Wi-Fi connection to the facility's Internet network, the Jeweller communication range significantly increases due to the absence of interference from the Ethernet cable.
Internet connection via mobile networks became 4 times more reliable. If the 3G communication fails, Hub Plus automatically switches to the 2G network, and if the problem is not solved, it uses the second SIM–card. It takes up to 4 minutes to reconnect, while the standards time in the market is 17 minutes. This is the best solution to ensure the safety of a country house or a cottage.
| | | |
| --- | --- | --- |
|   |  Hub |  Hub Plus |
| Groups |  9 |  25 |
|  Users |  50 |  99 |
| Devices  |  99 |  150 |
Hub Plus works longer from the backup battery and allows adding more users, groups, devices. Memory capacity is increased twofold that will allow full unleashing of the Ajax potential as a smart home system.
| | |
| --- | --- |
| Connection | Wi-Fi, Ethernet, 2 х SIM 2G/3G |
| Communication range | up to 2,000 meters |
| Backup battery life | up to 16 hours |
| On the market | Q4 2018 |
Ajax Socket
The smart socket does not require installation — just a few seconds to connect to the Hub, and the Socket is ready to manage the power of the connected device. Manually or using a script.
Socket is equipped with a LED indicator that shows the amount of energy consumed by the device. The closer indicator to the purple colour, the bigger electric bill you will get at the end of the month.
The Socket includes protection systems just as in the WallSwitch and Relay. It will not let the connected device to blow at a voltage surge and to melt at continuous maximum load. Moreover, this is a common problem of sockets — smart and standard too.
| | |
| --- | --- |
| Communication range | up to 1,000 meters |
| On the market | Q4 2018 |
Ajax Button
This is a tiny button, which you can stick under the table or at the headboard, hang on a key ring or put in a pocket — the Button should be kept at hand.
Button usage scripts:
Panic button — to call the rapid response team of the security company.
Help button — for the sick and the elderly.
Ajax control button — set the actions for a short press and long one.
Button supports two-way connection with a Hub. The light indication informs of the successful command transfer to the Hub and its execution. Like the SpaceControl key fob, the button does not need to be enabled by pressing — it is always active.
| | |
| --- | --- |
| Communication range | up to 1,000 meters |
| Bundled battery life | up to 5 years |
| On the market | Q1 2019 |
Ajax MotionProtect Outdoor
MotionProtect Outdoor motion detector opens up a series of Ajax devices for adjacent area protection.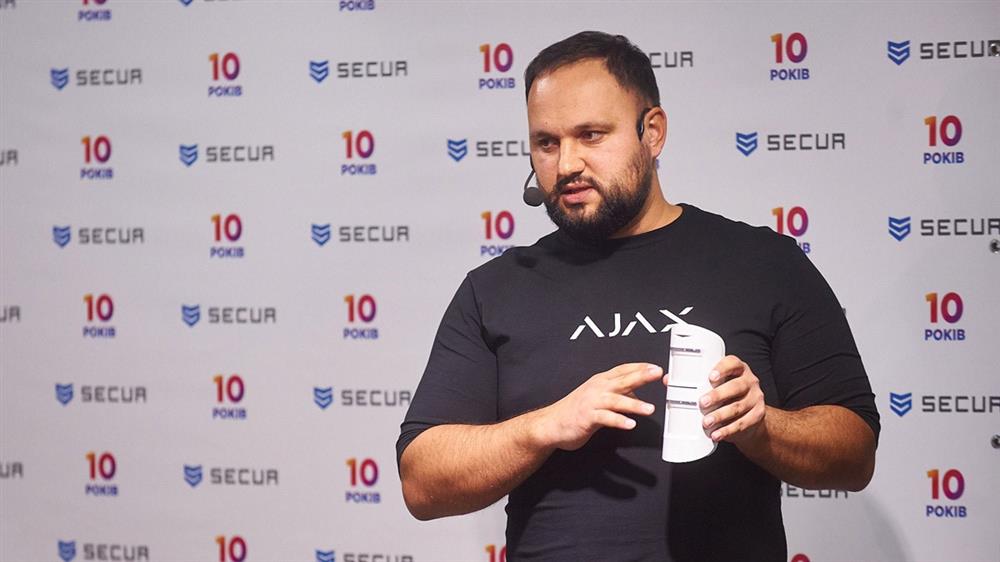 MotionProtect Outdoor ignores pets, birds, leaves of trees heated by the sun and other disturbances, but detects human presence when he sets foot on a protected area. The intelligent LISA algorithm eliminates false triggering.
The risks of sabotage are much higher outdoors than indoors. Therefore, in addition to tamper protection, MotionProtect Outdoor is equipped with a Grade 3 anti-masking system. There is no sense even to attempt to covertly block the view of the detector, hang the body with a cloth, glue or paint over the lenses.
The detector has a motion detection range adjustment: from 3 to 15 meters. MotionProtect Outdoor will be able to protect even small land plots.
| | |
| --- | --- |
| Communication range | up to 1,200 meters |
| Bundled battery life | up to 5 years |
| External power | 5–28 V |
| Body protection | IP54 |
| On the market | Q4 2018 |
Ajax MotionProtect Curtain
Curtain motion detectors create invisible barriers, allowing you to move freely in the protected area.
MotionProtect Curtain detects movement at the distance from 8 to 10 meters, ignores pets and natural interference. A unique system of two pyro sensors, lenses and mirrors, as well as an intelligent LISA algorithm eliminates detector false triggering.
MotionProtect Curtain comprises tamper protection and Grade 3 anti-masking system, so an intruder will not be able to sabotage it unnoticed.
| | |
| --- | --- |
| Communication range | up to 1,200 meters |
| Bundled battery life | up to 4 years |
| Body protection | IP54 |
| On the market | Q4 2018 |
Ajax ReX
ReX, formerly known as RangeExtender, will significantly expand the radio communication range of Jeweller. It will open really large facilities for Ajax: production facilities, office centres, and hotels.
Ajax MotionCam
MotionCam is a motion detector with photo registration of events. It activates the camera only when it detects a trigger and takes a photo with resolution 320 x 240 px. The photo is visual enough to make a firm conclusion under any light condition (or lack thereof): penetration has happened.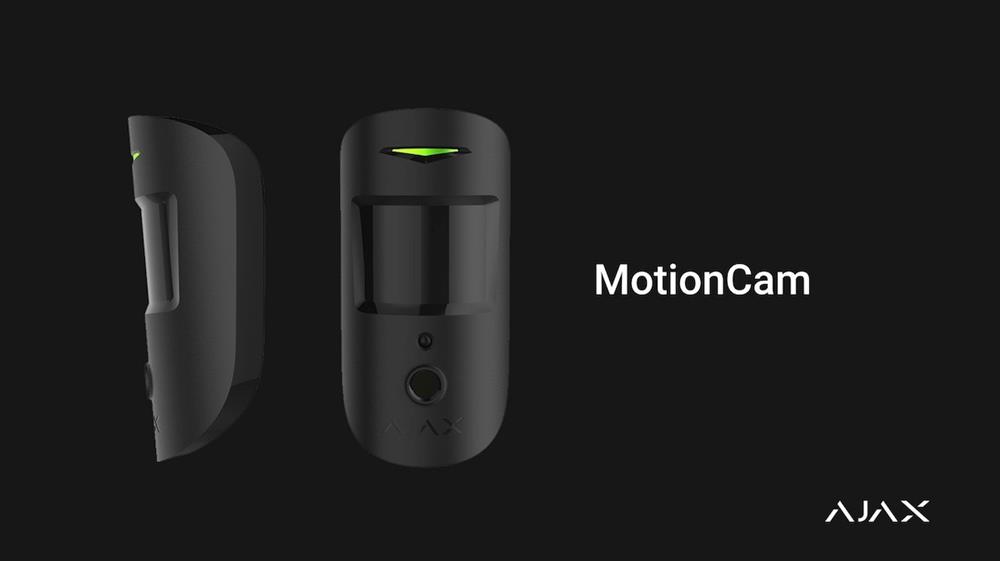 Development of detector with a camera became a challenge for our R&D team. We could not use Wi-Fi to communicate the detector with the Hub, as it could deteriorate the reliability and communication range. In addition, Ajax would become dependent on the Wi-Fi infrastructure of the facility. It was crucial to get a device with independence on the level with other Ajax security detectors. The well-proven Jeweller was not suitable for transferring images due to high data volume required. So we have developed a new radio protocol: the Wings.
Thanks to the Wings, MotionCam detector transmits an alarm in 150 ms, which is the Ajax standard. You do not need fast internet connection to read the alarm message. The independence and communication range of MotionCam is at the level of other Ajax devices. As well as the price. We are confident that such motion detectors are the future.
API
Large service companies serving tens of thousands of facilities will be able to integrate Ajax devices into their software systems via API. It will provide direct management without using Ajax applications.
Hub OS Malevich 2.7
The update of Hub OS Malevich 2.7 will provide Ajax systems with new scripts and SIA, the second communication protocol.
The security system will be able to exchange information with Central Monitoring Station both using Contact ID protocol through the Ajax Translator receiver, and directly using SIA protocol. This is a digital standard with data encryption that allows transferring both the events and the additional information. For example, time of the event and coordinates of the facility.
Monitoring in Ajax PRO Desktop
Ajax PRO Desktop will get a function of facility monitoring. The application can be used as a console software for new security companies, and local monitoring stations for residential complexes, shopping and business centres for management of up to 1,000 Ajax systems.
Advantages of Ajax PRO Desktop:
Speed and ease of connecting security systems for the monitoring
.
Full information on the status of each device and remote configuration.
Customized event notifications.